Welcome to 0 hr art & technology - digital art, graphic design, and game development by Ryan Wolfe. Below you can find information about, and examples of, deluxe starship deckplans and fantasy cartography. These are top-quality products designed to enhance your table-top games and help bring your adventures to life. Zero hour, it's time to play!

The Future Armada and Armada Codex starship designs:

Overview
Gallery of Starships

Future Armada Demo Documents
Armada Codex Demo Documents



Buy Starship Posters & Miniatures
Buy Shadowstar Corsairs Boardgame Materials
Zero Hour Fantasy Maps

Posters and miniatures from my Kickstarter campaigns are now available for sale via the link above. For digital products, please visit DriveThru RPG or RPGNow.

The last Poster & Miniature Kickstarter campaign featured the Kintaro racing yacht and Tachikaze police interceptor (from issue #3 of 0-hr Armada Codex). Every pledge level included the Kintaro PDF documents and digital versions of the poster fulfilled by DriveThruRPG!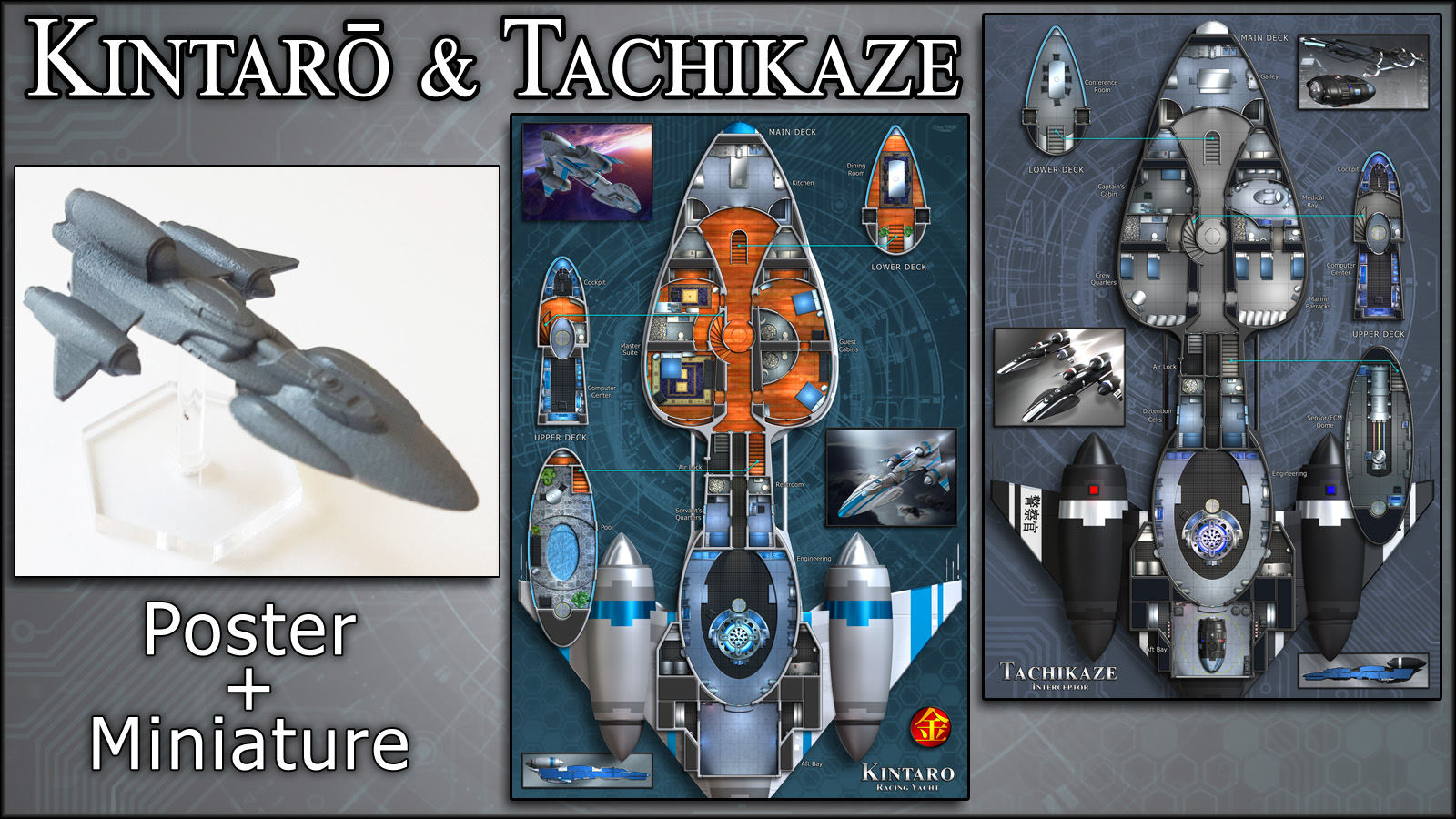 Issue #5 of the Armada Codex is now available at RPGNow and DriveThruRPG! The Crucible-class is a medium-sized station designed to convert raw materials into finished goods. Some stations are used as industrial ore processing stations or gas mines. Others are employed as military academies or civilian training facilities - transforming recruits into professionals. Still others may process nothing but wealth and power as corporate outposts or crime syndicate headquarters. These stations have room for a hundred personnel and boast a variety of facilities to suit a wide range of duties.
The posters and miniature will be coming to Kickstarter in June, so stay tuned!
Issue #20 of Future Armada is now on the virtual shelves of RPGNow and DriveThruRPG! This issue is "Redux Beta" and presents variants based on the existing ships Morningstar and Ajax (from the MisFortune issue). It also includes a collection of cargo containers to use as colony pods and a variant TOAD to help deliver them.
This is the final issue of Future Armada, though the Armada Codex line (with layered PDFs but no obsolete d20 Future stat blocks) will continue at full speed now that the board game project is complete.
Funded via Kickstarter with all stretch goals unlocked, production and distribution of my inaugural board game is complete! Using the ships and setting from Armada and Codex, Shadowstar Corsairs puts players in command of a small fleet of armed merchant ships vying for control of the chaotic but lucrative Shadowstar Expanse. Copies of the game, as well as dice and ship sets, are available for sale in the Shadowstar Shop.